The Learning Enhancement team assists KCU students with the development and strengthening of skills to promote confidence and self-directed learning. Students are encouraged to set goals and work toward accomplishing them through a mixture of individual coaching, identification and utilization of resources, and targeted action planning. Learning specialists work with students on any topic related to being successful academically, including study skills, time management, organizational skills and test taking.
Abby Tribble, MS CSP
Learning Specialist – Student Services – Joplin
Joplin Campus
ATribble@kcumb.edu
417.208.0658
Credentials:
Master of Science in College Student Personnel, Arkansas Tech University
Bachelor of Science in Psychology, Central Methodist University
Associate of Arts, State Fair Community College
Experience:
Abby has been serving students for over ten years. Her career began in the Missouri Community College system where she provided student support in admissions, advisement, career services, orientation, retention, and student life. Abby fosters a dedication to serving students, collaborating with colleagues, and establishing relationships for the betterment of the campus and community. Abby is an antique and flea market aficionado, oil painter, and coffee connoisseur.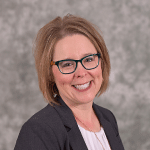 Stacie Scrivner, RDH, MEd
Learning Specialist - Student Services - Joplin
Joplin Campus, Room 1609
SScrivner@kcumb.edu
417-208-0730
Credentials
Master of Education, William Woods University
Bachelor of Science in Health Science, Missouri Southern State University
Associate of Science in Dental Hygiene, Missouri Southern State University
Registered Dental Hygienist
Experience
Stacie's career began in clinical practice as a registered dental hygienist. She evolved into higher education in 2009 teaching clinical and didactic dental hygiene courses. Her higher education background is in academic support, academic advising, board preparation and assisting students in their progression as a health care provider. Her passion is to serve others in their educational journey and within her community. Outside of KCU, she is a momma of drama with two girls. In her spare time, she enjoys scrapbooking and softball.